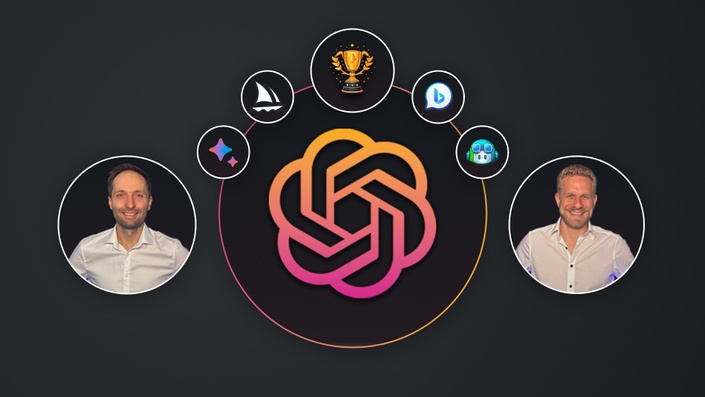 ChatGPT - The Complete Guide
10x your productivity by using ChatGPT & OpenAI APIs efficiently. Includes prompt templates & hands-on examples.
Watch Promo
Enroll in Course
Unlock the power of AI and gain a huge productivity boost with our comprehensive online video course!
Are you ready to harness the incredible potential of ChatGPT? Look no further! Our course, "ChatGPT - The Complete Guide to ChatGPT & OpenAI APIs" is your all-in-one solution to mastering this revolutionary technology.
Course Update November 2023
Added an entire section about DALL-E 3 to generate images directly in ChatGPT.
Big Course Update September 2023
Added round about 2h of new content on AI-powered developer tools like GitHub Copilot, Copilot Chat & Cursor IDE.
Also added new content on Midjourney, a new section on Dall-E 2 & Elevenlabs (AI voice generator) + many smaller updates & improvements.
Course Update July 2023
Added 1h of new content about ChatGPT Code Interpreter: Learn how to use ChatGPT to generate & execute code directly in the browser.
Course Update May 2023
Added more deep-dive content on other AI tools (Midjourney, Google Bard & Microsoft Bing Chat).
-
Unlock the power of AI and gain a huge productivity boost with our comprehensive online video course!
Are you ready to harness the incredible potential of ChatGPT? Look no further! Our course, "ChatGPT - The Complete Guide to ChatGPT & OpenAI APIs" is your all-in-one solution to mastering this revolutionary technology.
Through this immersive, hands-on course, you'll discover:
All The Fundamentals: Dive into the world of ChatGPT, GPT models, and Large Language Models (LLMs). Learn the science and mechanics that drive these advanced AI systems.
Essential Skills: Master the ChatGPT interface, its key features, and how to craft both basic and complex prompts. Empower yourself with the tools needed to excel in the AI-driven landscape.
Prompt Engineering Mastery: Optimize your AI experience by learning basic and advanced prompt engineering techniques. Write efficient prompts that get you the precise results you're looking for.
DALL-E 3 with ChatGPT: Use DALL-E 3 from right inside ChatGPT to generate beautiful images in different styles.
Midjourney Introduction & Deep Dive: Learn how to generate beautiful images with help of AI & explore how to efficiently use Midjourney for your day-to-day work!
Real-World Applications: Explore the diverse use-cases for ChatGPT, from speeding up day-to-day tasks to conducting research, creating content (including blog posts, tweets, and more), writing and enhancing code. And much, much more!
App Creation Magic: Discover how ChatGPT can revolutionize your app and program development, even without programming knowledge. Unleash the power of AI to create innovative and powerful solutions.
Become a 10x Developer: Already got programming experience? Great! Learn how ChatGPT can help you speed up your day-to-day work. Use ChatGPT for development, debugging, refactoring and much more!
Insider Tips & Tricks: Gain access to our treasure trove of tips and tricks for working with ChatGPT. Maximize your efficiency and productivity with these expert insights.
Hands-on Examples & Exercises: Apply & practice what you learned by diving into real examples. Build websites, games, web APIs, blog posts & much more!
Prompt Templates: Use & fine-tune many included pre-built prompt templates to save valuable time and boost your productivity immediately!
OpenAI API Mastery: Learn how to work with OpenAI's APIs and leverage them to build your own AI-powered applications. Unleash the full potential of AI in your projects.
AI-powered Developer Tools: Learn how to use GitHub Copilot, Copilot Chat & the Cursor IDE to boost your productivity as a developer.
AutoGPT Automation: Master the use of tools like AutoGPT to build automated AI processes and workflows. Streamline your work and let AI do the heavy lifting.
By enrolling in this course, you're taking the first step towards a future powered by AI. No matter your background or experience level, our course is designed to provide you with the knowledge and skills you need to thrive in this rapidly evolving landscape.
Don't miss this opportunity to become an AI pioneer! Enrol now, unlock your potential & transform your career today!
This course covers it all: ChatGPT-powered copywriting, blog post & article generation, email / email draft generation, text summaries via ChatGPT, translations, tone adjustments, social media post generation, code generation, code debugging, refactoring & much, much more!
Course Prerequisites
No prior ChatGPT, development or other knowledge is required!
---
All pre-requisites are covered by courses in our "Academind Pro" Membership.
Don't take my word for it - here's what other students are saying.
Ira Scott Herman
The more I go through this course, the more incredible I think it is! The course is well organized and practical knowledge. The instructor uses best practices, and is consistently updating the course so I just keep getting more and more value from my initial purchase.
J. Scott Cromie
I feel like I learned a ton and feel like I can build custom apps to store on the flat thingy I keep in my pocket! Thanks for the course. It's great. Highly recommended.
Rachael Bouissey
As always, great teacher. I got a lot out of the React course and React Native is starting out just as helpful. Never would have made it through bootcamp without Maximillian!
30 Day Money Back Guarantee - No Questions Asked!
Our courses helped thousands of students learn something new and improve their lives.
We're so convinced by our course quality that we guarantee your success and provide a full refund within the first 30 days if you're not happy with the course.
Your Instructor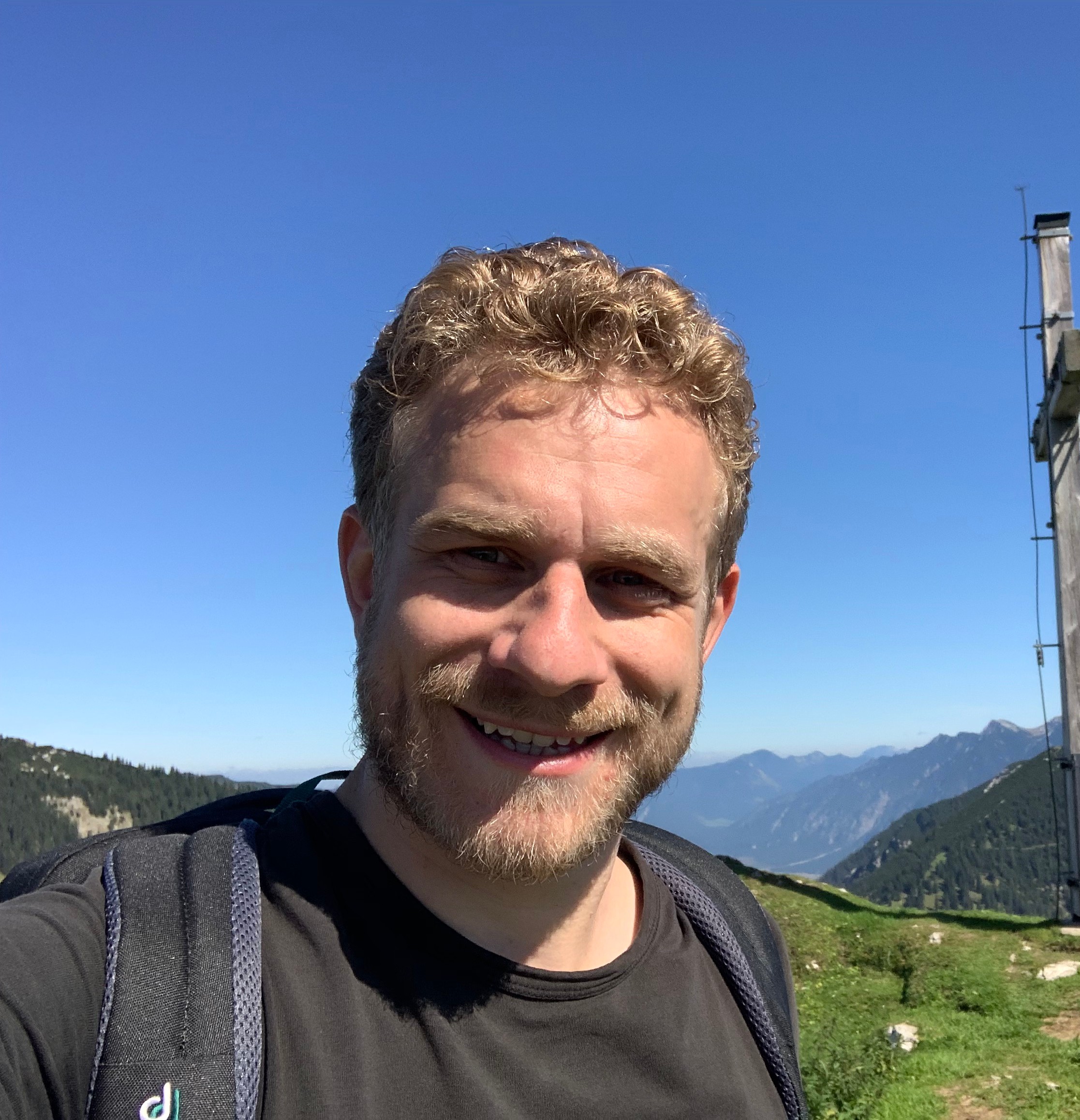 As a self-taught professional I really know the hard parts and the difficult topics when learning new or improving on already-known languages. This background and experience enable me to focus on the most relevant key concepts and topics. My track record of many 5-star rated courses, more than 2,500,000 students worldwide as well as a successful YouTube channel with 900.000 subscribers is the best proof for that.
The most rewarding experience for me is to see how people find new, better jobs, build awesome web applications, work on amazing projects or simply enjoy their hobby with the help of my content.
That's why, together with Manuel Lorenz, I founded Academind to offer the best possible learning experience and to share the pleasure of learning with our students.
Frequently Asked Questions
When does the course start and finish?
The course starts now and never ends! It is a completely self-paced online course - you decide when you start and when you finish.
How long do I have access to the course?
How does lifetime access sound? After enrolling, you have unlimited access to this course for as long as you like - across any and all devices you own.
What if I am unhappy with the course?
We would never want you to be unhappy! If you are unsatisfied with your purchase, contact us in the first 30 days and we will give you a full refund.
Join 1885 happy students!
Single-Course License
Full access to "ChatGPT - The Complete Guide
$39 $69
Access to this course only.
This is a one-time payment that grants access to this course only, not to any other courses.
Buy Now
Most Popular
Academind Pro Membership
Unlimited access to this and all other current & future courses!
$25/month
Cancel anytime!
This is a recurring payment, charged automatically on a monthly basis. You can cancel anytime from inside your user profile to avoid being charged again once your billing cycle ends. For more information, please contact Academind.
Become a Pro